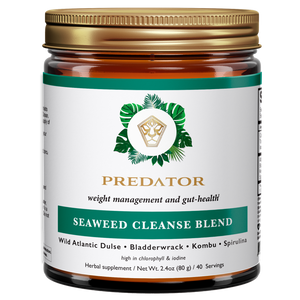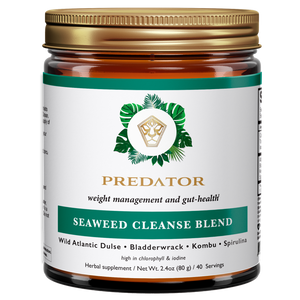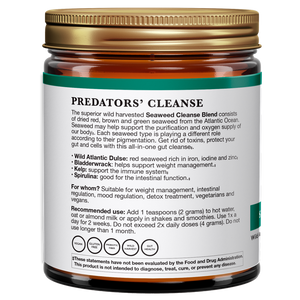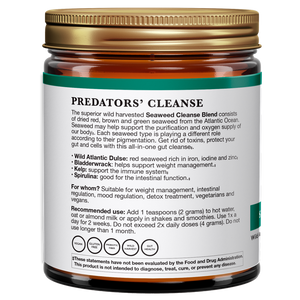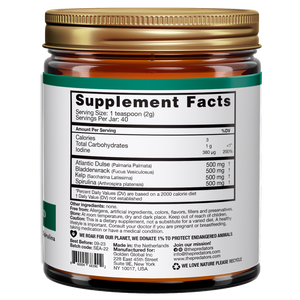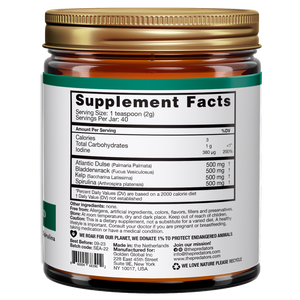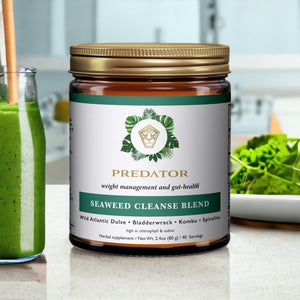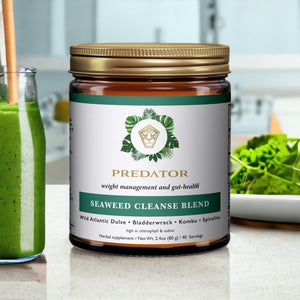 On Sale
Seaweed Cleanse Blend
The Seaweed Cleanse Blend from the Atlantic Ocean is an ideal way to jumpstart your cleanse and support gastrointestinal health. Wild-harvested in Ireland, this mix of dried red, brown and green seaweed is widely recognized for its exceptional purity.
Algae provide half of our world's oxygen supply and they play a vital role in the purifying properties of our oceans' pH levels. This is how the algae also helps to purify our blood, gut and help to balance pH levels. They are known for their cellular protective properties and provide us with our daily intake of chlorophyll.
The Seaweed Cleanse Blend supports :
• Wild Atlantic Dulse: red seaweed rich in iron and zinc*
• Bladderwrack: supports weight management*
• Kombu: supports the immune system*
• Spirulina: good for the intestinal function*

Ingredients: Atlantic Dulse powder, Bladderwrack powder, Kelp powder, Spirulina powder

Suggested Use: add 1 teaspoon (0.07 oz) to 1/2 glass of warm water (not boiling water). Take 2x a day. Drink 15 minutes before breakfast and 15 minutes before dinner. Do not exceed maximum daily dose of two teaspoons (0.14 oz). Use in shakes, smoothies or soups to support a balanced diet.

Dosage: 1 teaspoon (0.07 oz)
Portions per jar: 40 
Net weight: 2.8 oz / 80 gram
Allergens: free from allergens, artificial ingredients, colors, flavors and preservatives.
Storage instructions: store at room temperature, dry and dark place. 


Predator Purification Program
Step 1) Week 1: Seaweed Cleanse blend for gut Cleanse
Step 2) Week 2 & 3: Glory Detox blend for liver support
Step 3) Week 3: Ground Adaptogen Coffee supporting the para-sympathic nervous system

Use the Seaweed Cleanse Blend for 7 days. After this week you stop with the Seaweed Cleanse and you can start with the Glory Detox Blend for 2 weeks. This will help to support the liver's purification function. In week 3 into the program you can start with the Ground Adaptogen Coffee, supporting the parasympathic nervous system, helping to regulate stress levels and protecting your cells. Give your body's 'self-regulating healing mechanism the right support with the Purification Program.

Questions about our Purification Program? Please send us an email to info@thepredators.com