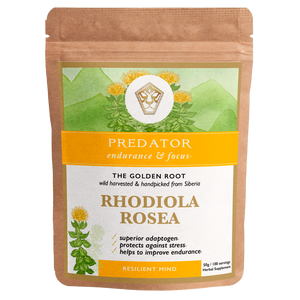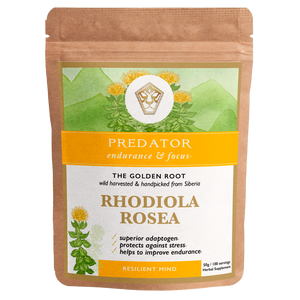 On Sale
Rhodiola Rosea - Focus & Performance
The golden root
History and use
Rhodiola Rosea has been used for centuries, with ancient Chinese monks utilizing it to support clear thinking, resilience, and meditation. Indigenous tribes have noted that its ability to thrive in extreme cold climates grants them seemingly intangible strength.

Origin: wild and hand picked by nomads, Altai, Siberia, Russia.
How it works
This superior raw root is classified as Superherb, supports the natural adaptation capacity in our body in the face of physical and emotional stress. Bioactive components: Salidroside ≥ 1.8%, Rosarin, Rosavin (5%) and Rosin.
What is it used for?
- Improves stamina
- Mental strength & concentration
- Vitality & resilience
When: beginning of the day, before sports, in stressful times, exams or in case of performance anxiety.

Recommended use: daily max. 1 gram. Concentrate on your intentions. Add 1/2 teaspoon of Rhodiola Rosea to your smoothie, tea or latte every day.