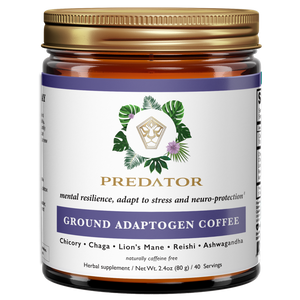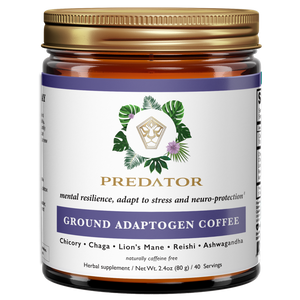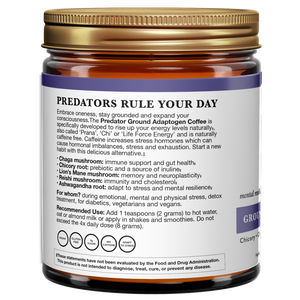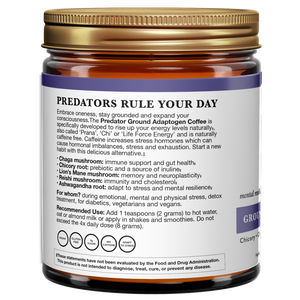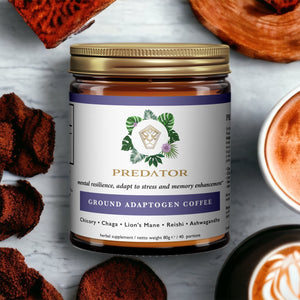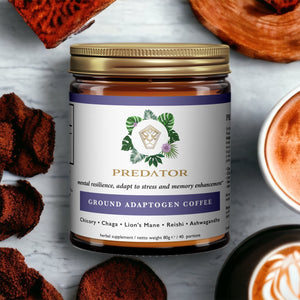 On Sale
Ground Adaptogen Coffee
The Ground Adaptogen Coffee has been carefully formulated for 'the Prana', 'Chi' or 'life-force energy' in the body, helps filter out stress hormones and activates the natural regenerative capacity. The neuroprotective properties support your memory and help protect against neurodegeneration. Why do we avoid caffeine? Caffeine stimulates stress hormones which can cause exhaustion in the long term. Break the addication to caffeine with this delicious alternative containing nerve- and mind-boosting mushrooms and adaptogen roots.

The Ground Adaptogen Coffee supports: 
• Wild Chaga mushroom: contains betulin and metulin
• Cichory root: a source of inulin and is a prebiotic*
• Wild Lion's Mane mushroom: nerve health and memory support*
• Reishi mushroom: immunesystem and healthy cholesterol level*
• Ashwagandha: protects against stress and supports emotional balance*

Suitable for: vegetarians and vegans.

Suggested Use: add 1 teaspoon (0.07 oz) to a cup of hot water, oat or almond milk or use in shakes and smoothies. 
Ingredients: Roasted chicory root, wild Chaga mushroom extract, Lion's Mane mushroom extract, Ashwagandha root extract.

Serving size: 1 teaspoons (0.07 oz)
Portions per jar: 40 
Net weight: 2.8 oz / 80 gram
Allergens: free from allergens, artificial ingredients, colors, flavors and preservatives.
Storage instructions: store at room temperature, dry and dark place. 


Predator Purification Program
Step 1) Week 1: Seaweed Cleanse blend for gut 
Step 2) Week 2 & 3: Glory Detox blend for liver 
Step 3) Week 3: Ground Adaptogen Coffee supporting the para-sympathic nervous system

Use the Seaweed Cleanse Blend for 7 days. After this week you stop with the Seaweed Cleanse and you can start with the Glory Detox Blend for 2 weeks. This will help to support the liver's purification function. In week 3 into the program you can start with the Ground Adaptogen Coffee, supporting the para-sympathic nervous system, helping to regulate stress levels and protecting your cells. Give your body's 'self-regulating healing mechanism the right support with the Purification Program.

Questions about our Purification Program? Please send us an email to info@thepredators.com