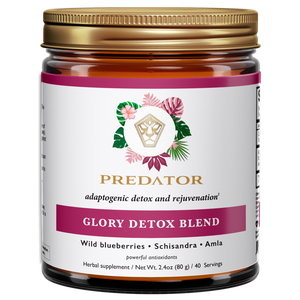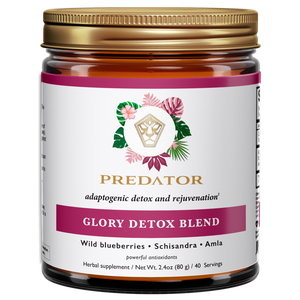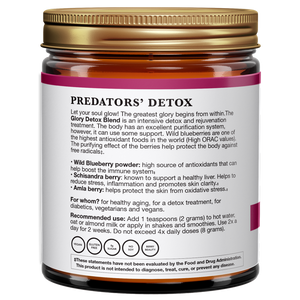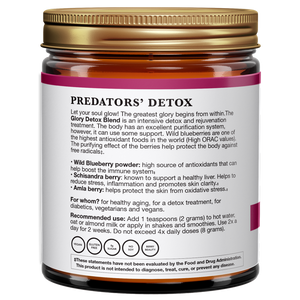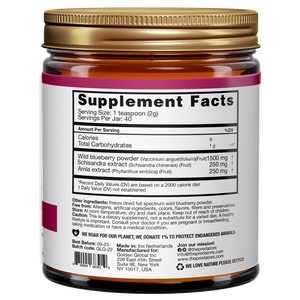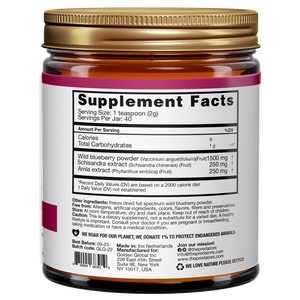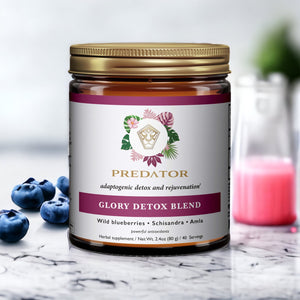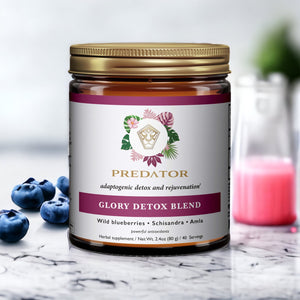 On Sale
Glory Detox Blend
The Glory Detox Blend is a mix of wild adaptogenic berries and is used as intensive detox and rejuvenation treatment*. It helps to nourishes the skin from within and aids  the liver' detoxification properties, which is the primary filtration system in the body*. Its purifying action helps protect the body against free radicals and contains one of the world's highest ORAC values. The antioxidant activity of this berry blend has been selected to help protect, nourish and support the body.* The nutritional value and density of the powder is equivalent to 35 berries on just one teaspoon.
The Glory Detox Blend supports:
• Wild Blueberries: antioxidants*, high in ORAC values
• Schisandra berries: the purifying effect of the liver*
• Amla berries: digestion, cell protection & protection against aging*
Suitable for: 
for an
intensive detox
,
rejuvenation cure, for vegetarians and vegans
.

Suggested Use: Add 1 teaspoon to smoothie, shake or tea. Use 2x per day. Use in shakes, smoothies or tea to support a balanced diet. Add extra: fresh blueberries. Do not exceed 2x daily dose (0.28 oz).

Ingredients: Wild blueberry powder, Schisandra berry extract, Amla berry extract.

Serving size: 1 teaspoons (0.07 oz)
Portions per jar: 40 
Net weight: 2.8 oz / 80 gram
Allergens: free from allergens, artificial ingredients, colors, flavors and preservatives.
Storage instructions: store at room temperature, dry and dark place. 


Predator Purification Program
Step 1) Week 1: Seaweed Cleanse blend for gut Cleanse
Step 2) Week 2 & 3: Glory Detox blend for liver support
Step 3) Week 3: Ground Adaptogen Coffee supporting the para-sympathic nervous system

Use the Seaweed Cleanse Blend for 7 days. After this week you stop with the Seaweed Cleanse and you can start with the Glory Detox Blend for 2 weeks. This will help to support the liver's purification function. In week 3 into the program you can start with the Ground Adaptogen Coffee, supporting the para-sympathic nervous system, helping to regulate stress levels and protecting your cells. Give your body's 'self-regulating healing mechanism the right support with the Purification Program.

Questions about our Purification Program? Please send us an email to info@thepredators.com